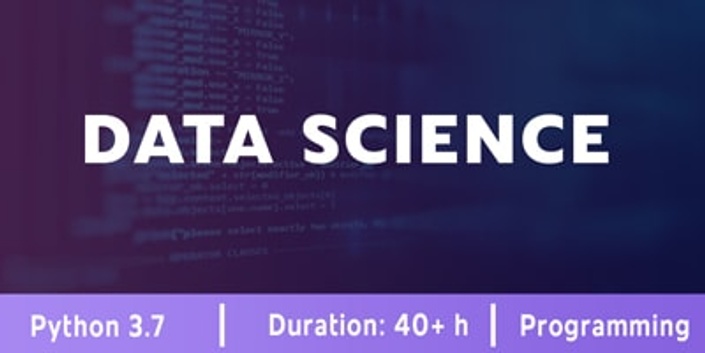 UI - Data Science Tutorial
Faculty: Mujahed | Duration: 40+ Hours | Version: Python 3.7 | on Linux Scientific Operating System | Prereq:Background of Mathematics, Algorithm,Python Basics
Play Demo

Experienced Facutly

Free Bundle Access

Course Next Version

Real-time Scenarios

Interview Q&A

No Doubt Clarification
1) Is data science good for freshers?
The companies do hire freshers for data analyst and data scientist positions. Over of the entry-level analytics jobs in India don't need any specialization or post-graduation. Students qualification you need in these companies is an Engineering Degree, and even the stream doesn't matter.
2) how to move into data science?
the best learn data mining and data science by doing, so start analyzing data as soon as you can! However, don't forget to learn the theory, since you need a Best statistical and machine learning foundation to understand what you are doing and to find real nuggets of value in the noise of Big Data.
only 7 steps to learn data mining many of these steps you can do in parallel:
step 01 Learn R and Python
step 02 Read 1-2 introductory books
step 03 Take 1-2 introductory courses and watch some webinars
step 04 Learn data mining software suites (https://svrtechnologies.com/tutorials/data-science-tutorial/)
step 05 Check available data resources and find something there
step 06 Participate in data mining competitions
step 07 data scientists and via social network, groups, and meetings
It's never too late to move into something that excites you, however, it is important you make the move as soon as possible and here is why.
3) how to get a job in data science?
Step 1: On my behalf Best suggestions then to get a job an as a Data Scientist:
Step 2:
studying important concepts, programming and answering business questions, also remember that you will be an important piece of the organization, but you will also deal with different types of situations, be ready to answer questions about how would you behave in different work problems.
Step 3: The people interviewing you too.

Step 4: They want you to get in the company, that's a powerful advise that I remember every day.
You follow SVR post on "A day in the life of a Data Scientist" to have a better idea of what we do.
4) how to get certified in data science?
Steps to Becoming a Certified IT Professional
Complete a Post secondary Education Program
Gain Work Experience
Become Certified
Earn a Bachelor's Degree
5) why data science?
Data Science is successfully (python videos) Running value to all the business types by using statistics and deep learning to make good decisions and improve hiring.
Its also be used to crunch the previous data science and predict possible (data science tutorial) situations so that we can work on avoiding them.
6) how to learn data science?
Structure of students for beginners Steps:
1: Assessing your technical & Structured thinking skills.
2: A few more ML algorithms.
3: Pick up a data visualization tool.
4: Big Data tools and techniques (data science training).
5: Deep Learning Basic and Advanced.
6: Reinforcement Learning.
A learning planing for Data Science is necessary to become a successful data scientist For beginners and transitioners, R, Python, basic of statistics, basic and advanced machine learning algorithms form the plan. For intermediate or Graduation students, advanced machine learning algorithms (data science tutorial, big data, deep learning, and reinforcement learning are required to be understood Practicing with datasets and an online SVR Technologies training plan help showcase your skills.


"Good one. I got a Websphere admin (training videos). The videos are available at a very reasonable price compared with others. I am happy to recommend others to be part of SVR. Thank you!"
- Chandu S

"SVR Technologies is the best training institute having experienced and well knowledgeable faculty. Thank for giving the training on web-sphere administration with good examples. Thank you @Vasu sir for your support. Trainer is very talented and thank you sir for sharing your knowledge"
- Anil Kumar

"I have trained for SAP FI course. They are very passionate about teamwork. I really admired by SVR. They are flexible in timings, this is the best thing I feel about SVR during my training."
- Laxmi Peela

"The course gave me good understanding of WebSphere and the know how of websphere administration."
- Ravikanth